Financial Calculus
An introduction to derivative pricing
Publicity
---
On this page: [press clipping] [display window] [meet the authors]

You can also click here for published book reviews.
---
Press clipping
Must read

"Everyone should have one," says Cambridge University Press of its latest title, a somewhat intimidating tome exhaustively exploring the murky world of derivative securities. Martin Baxter and Andrew Rennie, authors of Financial Calculus, claim the work is indispensable; so much so that they have posted one off to Singapore's Changi jail marked for the attention of Nick Leeson in the hope he'll find the time to read it.

Financial Times, Wednesday 18 September 1996
Display window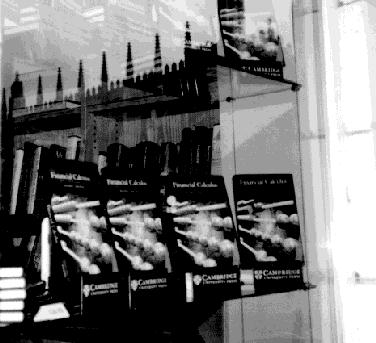 A display window into the Cambridge University Press bookshop at 1 Trinity Street, Cambridge.

Copies of Financial Calculus have been catching the eyes of passing pedestrians and cyclists since publication.

This actual window is next to the main entrance to the shop, and the reflection of King's College Chapel opposite can be seen in the glass.

Meet the authors
Andrew Rennie
Andrew Rennie now works at Merrill Lynch in London. In September 2006, Andrew hosted an industry meeting on Credit Correlation Modelling After Base Correlation.
Martin Baxter
Whilst working at Nomura, Martin Baxter makes public appearances from time to time.

He has spoken at
The closing conference of the Developments in Quantitative Finance programme at the Isaac Newton Institute in Cambridge on Thursday 7 July 2005. The title of the talk is "Correlation, Skew and Target Redemption Inverse Floaters".
The 3rd WBS Fixed Income Conference in Amsterdam, September 2006
Merrill Lynch meeting on Credit Modelling, September 2006
Risk Credit Europe summit, October 2006
---
Go back to top of this page
Return to book page